What Is A Certified Registered Nurse Anesthetist?
A certified registered nurse anesthetist is a nurse who functions in the operating room in the same way as an anesthesiologist. In other words he or she is allowed to administer anesthesia to patients. This is one of the most advanced nursing specializations that you could choose to pursue, and, because of the high degree of responsibility involved, it is also one of the most highly paid.
Nature Of The Work/Duties
A certified registered nurse anesthetist's main task is to administer anesthesia to patients when it is required. This may be necessary before, during, and after surgery. In many cases certified registered nurse anesthetists also provide anesthesia to women in labor in order to assist with the birthing process. It is interesting to note that certified registered nurse anesthetists have the ability to be largely independent in their roles as in many rural areas and other locations where a n anesthetists is too expensive to employ, certified registered nurse anesthetists work on their own in an operating room and are therefore entirely in control of the anesthesia process. So although the duties that you can perform will be limited, you will be in high demand in many areas because of your skill set.
Employment
The impression that you may have so far is that this is a fairly niche area of nursing in which you will be quite limited when it comes time to seek employment. However anesthesia is used in a number of different ways in a number of different settings. Essentially you will be employable in any healthcare setting where pain needs to be dulled. Consequently there are certified registered nurse anesthetists employed in all of the following places:
Hospital operating rooms
Ambulatory surgery centers
Pain clinics
Physicians' offices
The U.S. military
Another aspect to consider is the fact that you need to complete general RN training before you can become a certified registered nurse anesthetists, and this training will make you employable in general nursing settings as well as in operating rooms.
Certified Registered Nurse Anesthetist Requirements
The first requirement that you must meet in order to become a certified registered nurse anesthetists is a bachelor's degree in nursing or in another major which is deemed to be appropriate by the school where you would like to study to become a nurse anesthetist. In addition to that you will not be able to enter a certified registered nurse anesthetist program unless you already hold an RN license. Consequently you will need to go through all of the training and study necessary to become an RN and earn your license before moving on to being a certified registered nurse anesthetist. Generally speaking you will need to have at least 1 year of acute nursing care experience as a registered nurse. "Acute nursing care experience" is defined and determined by each school offering the nurse anesthetist program.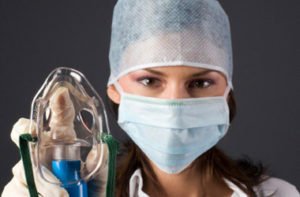 Personality Traits
The main personality trait that will serve you well as a certified registered nurse anesthetist is a desire to learn and to strive towards improving your knowledge and skills. In the field of surgery and anesthesia new advancements are made fairly regularly, which means that, in order to serve your patients effectively, you need to keep up to date. In addition to this personality trait you should also have the other skills that characterize good nurses:
A natural ability to be compassionate
The tendency to pay close attention to detail
A good spirit
The natural tendency to be helpful in most situations
Excellent communication skills for interacting with diverse people
Last but not least, a general love for working with people from all walks of life
Educational Requirements
To begin with you will need to hold a high school diploma in order to enter a registered nursing training program. At the very least you must earn a bachelor's degree in nursing or in some field that is related to nursing or that is deemed to be acceptable. A master's degree is not a prerequisite for entering a certified registered nursing course because you will be awarded with this qualification once you have completed the certified registered nurse anesthetist program. In short the educational requirements for entering this particular nursing specialty are fairly intensive and may take you a fair amount of time to complete. You must also remember that a certain amount of experience as an RN is also necessary in order to enter a master's program that will prepare you for this role.
Licensure
To become a certified registered nurse anesthetist you need to hold an RN license. This is one of the basic requirements for the job. The procedure for earning your licensure is simple enough to understand:
Begin by applying for licensure with your state board of nursing.
Once they have confirmed your eligibility to become licensed, apply to take the licensure test with Pearson VUE for a cost of $200. This test is called the NCLEX-RN.
Passing the test will allow you to become licensed. Patience is required as your results will be sent to the board and they will inform you in a few months f you are licensed or not.
Your license may need to be renewed periodically depending on the rules in your particular state.
How To Become A Certified Registered Nurse Anesthetist
Training, Advancement And Other Qualifications
This is an extremely intensive aspect of nursing that requires you to have a high degree of both theoretical and practical knowledge and skill. Consequently it will be necessary to complete additional training in the form of a master's degree program. This is one top of your basic RN training. Generally speaking these programs take about 24 to 36 months to complete depending on the school you attend and whether or not you are enrolled full-time or part-time. The topics that you will be required to become skilled in during this advanced training program include the following: anatomy and physiology, pathophysiology, biochemistry, chemistry, physics, pharmacology, principles of anesthesia, and management and advanced practice nursing. Mastering these topics and completing all necessary coursework will allow you to graduate from the program and become a certified registered nurse anesthetist.
Source An Accredited Education Program
The importance of ensuring that the program you enroll in is accredited cannot be stressed enough. When it comes to master's degree programs in nurse anesthesia you need to be aware of the following accrediting bodies:
The National League of Nursing Accrediting Commission (NLNAC)
The Commission on Collegiate Nursing Education (CCNE)
The Council on Accreditation of Nurse Anesthesia Educational Programs (COA)
The NLNAC accredits all types of nursing education programs including master's, baccalaureate, associate's and diploma the CCNE accredits programs that offer only master's and baccalaureate level nursing degrees, and the COA accredits nurse anesthesia programs at the certificate, master's and doctoral degree levels. If the program that you enroll in is not accredited appropriately you will find that in effect you are wasting your time and your money on that school.
Earn Your Associate's Degree
As mentioned previously it is necessary for you to hold a bachelor's degree in nursing to enter a master's degree program that will allow you to become a certified registered nurse anesthetist. However, as it is also necessary that you hold an RN license, an associate's degree is not a bad place to start as it can serve as a stepping stone in your nursing career that will bring you that much closer to the highly acclaimed and envied position of a certified registered nurse anesthetist. When looking into such programs in your area, remember to apply for more than one, and remember to adhere to the specific application guidelines that each school would like you to follow. This will broaden your chances of being accepted speedily into an appropriate associate's degree program.
Obtain Your Licensure
In addition to RN licensure you will need to become certified with the Council on Certification of Nurse Anesthetists in order to use the title of certified registered nurse anesthetist in your career. There are a number of prerequisites you will need to meet before you will be allowed to take this exam. You must provide:
A valid registered nurse license
Completion of the required forty credits of continuing education
Proof of practice of anesthesia during the two year period preceding application
Absence of any problems, mental or physical, that would be detrimental to the practice of a nurse anesthetist
On top of that it is necessary to renew the certification regularly, once every two years. When renewing you will provide proof of continuing education credits as well as of hands-on experience.
Online/Distance Education Programs
Completing the theoretical potion of your master's degree program online or through distance education can reduce the burden many students experience at this advanced stage of their studies. Online programs are often cheaper, alleviating the financial strain placed on students. In addition they also tend to be far more flexible. Although some master's degree online programs will be synchronous (i.e. you have to be online at certain times), others will be asynchronous (i.e. there are no set times at which you must be online). Other programs combine these two aspects. Generally speaking, however, you will have more freedom and the ability to work in your own time and at your own pace at all times throughout your training program. Your hands-on training will need to be done in an actual health care facility even if you complete your theory training online.
Job Outlook
There are a number of factors that lead us to believe that the job outlook for nurses in this specialty is extremely good:
There will an increase in the number of jobs for RNs in general of 26 percent increase in employment from 2012 through 2020.
Certified registered nurse anesthetists provide the same services as anesthesiologists, but at lower rates, meaning that they are more and more likely to be employed.
This is one of the most advanced nursing specialties, meaning that your skills will be in very high demand.
Because you will also have completed basic nursing training in order to earn your RN license you will also be employable in general nursing settings where no specialties are necessary in order to provide patient care.
Earnings
This is one of the nursing specialties that come with the best salary options. In general you should expect to earn around $77,792 – $169,583 a year. However there are also additional earnings you may receive, such as a bonus of between $0.00 and $15,351 a year as well as the potential for profit sharing of around $1,449 – $19,678 a year. This brings your overall potential earnings to $78,202 – $184,291 a year.
This is one of the nursing professions where almost as many men as women are employed. Certified registered nurse anesthetists are approximately 55% female and 45% male. However it is interesting to note that men can earn slightly more than women in this line of work:
Women can earn about $103,212 – $150,382 a year as a certified registered nurse anesthetist
Men can earn about $119,578 – $160,302 a year as a certified registered nurse anesthetist
The level of education you have achieved will obviously play a role in your salary expectations:
With a Bachelor's Degree you can expect to earn around $59,800 – $194,100 a year
With a of Science in Nursing (MSN) you can expect to earn around $91,089 – $157,049 a year
With a Master of Science in Nursing (MSN), Anesthesia you can expect to earn around $82,602 – $197,324 a year
With a Bachelor of Science in Nursing (BSN) you can expect to earn around $61,277 – $168,860 a year
With a Master of Science in Nursing (MSN), Nurse Anesthesia you can expect to earn around $110,494 – $168,479 a year