Pharmacy technicians are kept very busy helping pharmacists dispense prescription medications. You won't only find pharmacy technicians working in your local pharmacy down the road; they are also found in hospital pharmacy, military pharmacies and other health care facilities. When it comes to hospital vs community pharmacy technicians they receive excellent hands-on training in the industry and both types of pharmacy technicians learn alongside professional pharmacists. Some of them undergo accredited training programs by the American Society of Health System Pharmacists (ASHP) after which you receive certification, preparing you for work as a pharmacy technician in a hospital- or community pharmacy setting. Any pharmacy technician who wants to, can complete other courses to prepare them even further. In most states, pharmacy technicians must be at least 18 years old.
Pharmacy technicians today, whether hospital- or community pharmacy technicians, are performing tasks that were once the realm of pharmacists, such as dispensing medication as well as taking prescriptions over the phone. This is a tremendous relief for the pharmacist, who is freed up to attend to other important matters. Highly trained pharmacy technicians are an important component of a  pharmacy team, but in order to take on more responsibilities, they will need more  training and education, and standardization and accreditation are being sought in all states.
Different Working Times For Hospital- And Community Pharmacy Technicians
When it comes to hospital vs community pharmacy technicians, hospital pharmacy technicians won't only work day times and evenings like a community pharmacy technician, they will will required to work nights, weekends, or holidays, and this means, unlike a community pharmacy, you won't always be working with the same group of pharmacists and technicians.  There will also be those who come in on a part-time basis.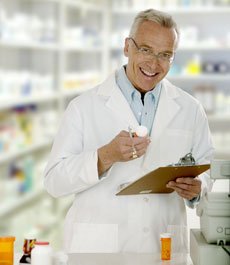 All Pharmacy Technicians Need To Follow Accredited Programs
The requirements for accredited programs are stringent and students will be required to complete many hours of training and education. The training will thoroughly prepare the pharmacy technician and equip them with skills that are portable and not restricted to one pharmacy type. Programs are becoming standardized and this means that the skills they acquire will be able to be transferred from environment to environment as well as from state to state.
Pharmacy technicians come from a mobile industry, and when techs train under accredited programs, there is that assurance that they all have the same knowledge and training. They are not trained just to be a community pharmacy technician or a hospital pharmacy technician; but they have across-the-board training, and this means that if  you hire one of these pharm techs from an accredited program, you know they will all have all the experience, skills and knowledge that  non-accredited pharmacy technicians will not have. They will all have more or less the same knowledge on vaccines, sterile products, IV preparation, labeling, medicine stocks, preparation of medicines and lotions and much more.
The ASHP, known as The American Society of Health-System Pharmacists, is the membership organization, working on behalf of pharmacists who practice in hospitals and health systems, and their job is to improve medication use and also enhance patient safety. Their mission is to advocate for the professionalism of the pharmacy technician workforce, and  The National Association of Boards of Pharmacy also advocates that pharmacy technicians complete an education and training program that must meets minimum standardized guidelines. They also  recommend the use of a single accrediting agency.
Duties Of Hospital vs Community Pharmacy Technicians Much The Same
Some of their duties include packaging and labeling prescriptions, sterilizing bottles and other glassware according to prescribed methods,doing routing pharmacy tasks, counting and measuring medications, mixing and preparing ointments and dealing with prescriptions as well as some administrative tasks.
They work under the supervision of pharmacists, and spend a good deal of time interacting with customers who come in with prescriptions or are looking for advice on over the counter medications. Most pharmacy technicians learn their skills from being in the pharmacy every day and acquiring on-the-job skills. There are no standard training requirements for pharmacy technicians, but some pharmacy technicians want to get training because they realize that when it comes to looking for a job, there are some jobs and some state that require a high school diploma as well as formal training and certification. These education programs are available through a variety of community colleges, hospitals, the military, organizations and vocational schools and can last anything from  6 months to 2 years.
Much Of Their Education Is Gained On-The-Job
The things a pharmacy technician will learn will include things like pharmaceutical terminology,  pharmacy record keeping as well as pharmacy law and ethics. It makes sense that they will need to know the names of medications, their dosage and what they do.  Some training programs will include internships,  where the student gains hands-on experience in a pharmacy. In most States, pharmacy technicians must be also be registered with the State board of pharmacy. Hospital pharmacy technicians are involved in the manufacture and dispensing of medicines. Hospitals get their supplies from the pharmaceutical industry; some of which need to be made in the pharmacy and the hospital pharmacy technician will make up medications, creams, ointments as well as mixtures from raw ingredients.
They have to work in extremely sterile conditions because if any contamination gets into the medicines, it can be fatal for the patient. The pharmacy technician is involved in the labeling of dispensed items and performs accuracy checks on dispensed medicines before the patient gets them. The hospital pharmacy technician also has to monitor and order medicines and keep stocks topped up. They keep a record of expiry dates on medications and dispose of them.
Scope Of Practice Of Pharmacy Technicians Becoming Standardized
When you look at hospital vs community pharmacy technicians you will find that their scope of practice is much the same, and in fact the roles they perform are becoming standardized and inter-changeable.  Community pharmacy technicians work in retail pharmacies under the  supervision of registered pharmacists.  They also label and dispense prescribed medicines. Just like other pharmacy technicians they also advise patients on how to use the medications  in the correct way. They can also offer advise on over-the-counter treatments and supplies like toiletries, cosmetics or baby products and can advise on treatments for simple ailments like colds or minor skin rashes.
They know when they are not able to advise on more serious matters, and will call on the pharmacist to assist in cases like this. Just like the pharmacy technician working in a hospital environment, the community pharmacy technician also keeps records of patients prescriptions on a computer. That is why all pharmacy technicians need to have some administrative skills as well.
Online Training Available For Hospital vs Community Pharmacy Technicians
Most training programs to earn a pharmacy technician certificate take about a year to complete, but there is more advanced study for those students who want to pursue a two-year associate degree or a four-year bachelor's degree.
If you want to take the pharmacy technician certification, it can benefit you in many ways and can certainly enhance your chances of employment in the future. There are many online schools offering pharmacy technician certification courses and the benefits are that they offer flexible hours  and more affordable fees than regular classes as well. These online courses are particularly useful to those who are far from a college or school where they live. To work as a pharmacy technician in some states,  pharmacy technicians are required to pass the Pharmacy Technician Certification Exam and to complete a registration process through their Board of Pharmacy.
There are some states that don't require technicians to be certified, but voluntary certification is available through s number of private organizations. The Pharmacy Technician Certification Board as well as the Institute for the Certification of Pharmacy Technicians administer national certification examinations. Technicians will need to be re-certified every two years, which will require 20 hours of continuing education in the two year certification period.
Conclusion
When working as a pharmacy technician, whether you are a hospital pharmacy technician or a community pharmacy technician, you will find  that no two days are exactly the same, but one thing is certain, they will be spending a lot of time on their feet, packing and labeling boxes, checking medication stocks and retrieving supplies from high shelves. Regardless of whether they are working in a hospital setting or a community pharmacy setting, they must be able to work independently, even though they are working under the supervision of an experience pharmacist. They will certainly not be able to be asking the pharmacist for advise throughout the day or night.
A sense of  responsibility is most important as mistakes in measuring medicines can be critical to the wellbeing of customers and patients, and to this end they need to understand how to use proper techniques to ensure that medications are prepared in a sterile environment.  When the pharmacist makes use of medical terms, they need to be familiar with all of the symbols and abbreviations that are used in a prescription order, and for this reason, both the hospital pharmacy technician as well as the community pharmacy technician must have knowledge of coding and billing as well.