You have decided to enter into the medical field as a medical assistant. These medical assistant programs can last for anything from a couple of months up to two years. At the end of your training you will have earned a degree or a diploma which will prove to your future employer that you have completed a training program for a medical assistant and that you are now qualified to enter the field.
All these programs will be taught at medical assistant schools or medical colleges. Medical assistant programs focus on all the skills you will require in the real world as a medical assistant rather than just the general education. This type of education makes it easier for the student to enter the field in the outside world in a relatively short time having had training in the skills needed for this specific profession.
Before making any decisions it is important to know what type of degree a medical assistant should have. Should you opt for a certificate or an associate degree and what will you learn with each of these? A certificate will allow you to update the records of patients, take care of the various insurance forms, collect specimens and so forth. With an associate degree you are also, apart from all of the above, allowed to draw blood, remove stitches, refill prescriptions, administer injections and so forth.
Medical Assisting Course Structure
Most of the medical assistant programs are divided into three sections so to speak. You have part of the program being taught in a classroom. Then you have hands-on clinical training and lastly you have the part where you as a student will apply everything you have learned in an actual clinical setting.
There are many subjects covered in these programs and include subjects such as physiology, patient care and communication, pharmacology, medical bookkeeping, laboratory proceedings, medical administrative skills and radiology to name but a few. However, before you decide on a course it is a good idea to talk to the counselors to find out exactly which subjects are covered by what course allowing you to make an informed decision on which program to choose for your training as a medical assistant.
Medical Assistant Externships
After you have completed the classroom and laboratory part of your training you will start your externships which involves working in a medical facility or a hospital for a couple of hours. You will be under the watchful eye of a nurse or a doctor while performing all the tasks a fully trained medical assistant would. Determining your final grade will depend on the reports which will be sent to your lector by the nurse or doctor under whom you performed all these tasks.
Career Placement After Graduation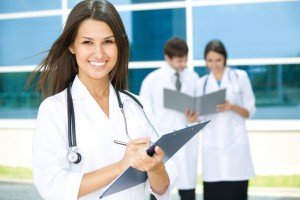 Some schools do offer a career placement service which can be used after graduating. Sometimes a graduate is lucky enough to stay on at the hospital or medical facility where their externship part of the training program was completed. If your school does not have a placement service then you have to do the job hunting by yourself and keep a look out for medical assistant positions on a job board.
Medical Assistant Training
As discussed earlier, these medical assistant programs can last from a couple of months up to two years giving the student all the training and hands on experience needed when entering the medical field as a medical assistant. You will see that most of the medical assistant training courses consist of training for the clerical as well as clinical aspects of the job.
Medical Assisting Course Content
As you know by now, the course includes a classroom section, a hands-one section and an externship section. Students who have taken subjects such as typing, biology, health and bookkeeping will have an advantage over the other students as they have already develop the clerical skills needed as well as crucial information when it comes to health. Also, if any of these students were volunteer workers at hospitals or clinics while completing high school, they will definitely have a distinct advantage over the other students.
Medical Assistant Certification
Once graduated you may decide that you want to earn a professional certification which, by the way, is entirely optional. This certificate will allow you to become a Certified Medical Assistant or CMA for short. You will have to take a test that will be administered by the American Association of Medical Assistants or otherwise known as AAMA. Although this certificate is optional it will really give you a great advantage when it comes to finding employment in the medical field.
To qualify for this certificate you need to have graduated from a medical assistant program that is recognized by one of the following two organizations.
The Commission on Accreditation of Allied Health Education Programs, otherwise known as CAAHEP.
The Accrediting Bureau of Health Education Schools, otherwise known as ABHES.
Choosing A Medical Assistant Program
It can be very daunting when there are so many different programs to choose from. I have decided to try to help you make your decision easier by giving you a few tips.
Narrow down your choices
The Certified Medical Assistant or CMA exam
General things to consider
There are four questions you need to ask yourself before deciding on a medical assistant program. If you answer 'no' to any one of these questions then you know that the program you are considering will not meet your needs.
1. Will this program allow you to take the CMA exam?
If this specific medical assistant program is not recognized by the Commission on Accreditation of Allied Health Education Programs otherwise known as CAAHEP or the Accrediting Bureau of Health Education Schools otherwise known as ABHES you will not be allowed to take the CMA exam. If a CMA certificate is what you wish to have, then you should eliminate this specific program from your list of possibilities.
2. Does it offer you the kind of degree you want?
You need to sure that this program offers you everything you need and want. My best advice to you is to speak to the counselor to find out everything about the medical assistant programs available to you.
3. Will you be able to afford it?
When you are doing your calculations make sure that you add the extra costs involved when it comes to your books, travelling expenses and so forth. Do yourself a favor and find out whether you have access to any type of financial aid.
4. Do the classes fit into your schedule?
This is also an important factor to consider. You must make sure that you will be able to attend these classes or, if need be, attend evening classes or do them long distance. You need to be sure that you will have the self-discipline to attend evening classes or do your studies long distance otherwise you will just be wasting time and money.
The CMA Exam
You need to find out what topics are covered in a CMA exam and then determine which program and which school will give you the coverage needed to successfully complete the exam. Topics such as first aid, pharmacology, lab, clinical procedures and office practises will be covered in a CMA exam. To make sure that you have found the best school and program do a few enquiries finding out how many student who studied there passed their CMA exam, are their scores above average, how many of these students find full-time employment and so forth.
General Things To Consider
The size of the class should be an important factor. You don't want to be stuck in a huge group where none of you will be able to ask questions and have them immediately answered by the instructor. A small class is ideal for when you or any of the other students need that individual attention you sometimes require when you have a query or a concern.
Internship is another important part of your studies as hands-on experience is extremely valuable allowing you to learn things that you are not able to get from a textbook.
Find out if any tutoring is available to you giving you the peace of mind that help is at hand when you need it.
So, as you can see, this is definitely not an easy decision and definitely not one to be taken lightly. Don't' make a decision without being properly informed of all the advantages and disadvantages of the medical assistant programs you are considering. The lectors will be more than happy to answer any questions you might have. You can even talk to medical assistants who completed their studies and get some valuable information from them.
I hope these few tips make it a bit easier for you to eliminate certain schools and medical assistant programs and focus on the ones that are able to offer you exactly what you require.