When it comes to pharmacist vs pharmacy technician, many people do not know or understand the difference. When one goes into a pharmacy there are usually a few people in white coats behind the counter, and few of us know which of them are pharmacists, and which are pharmacy technicians, because to us it looks as though they are all doing the same job.
This is not so, though, and whilst there are many similarities between jobs when it comes to the pharmacist vs pharmacy technician, there are also many differences. In short, a pharmacist is more qualified and the senior of the two; the pharmacist is the only one with authority to decide whether or not a certain medication is safe for public consumption; the pharmacist handles the clinical and scientific side of things whilst the pharmacy technician handles mostly administrative duties.
Pharmacists And Pharmacy Technicians Workplaces
You will find pharmacists and pharmacy technicians everywhere that prescription drugs are dispensed. Although there are various settings in which they work, these sites all fall within two categories; hospital pharmacies and community pharmacies: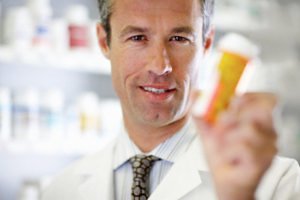 Community pharmacy workers are employed in general merchandise stores or drug stores, who employed approximately 55% of pharmacists and 68% of pharmacy technicians in 2010. Hospital pharmacy workers can be found in medical hospitals and clinics, and their ratio of pharmacist vs pharmacy technician in 2010 was 25% of pharmacists and 20% of pharmacy technicians.
Pharmacist vs Pharmacy Technician Duties
The pharmacy technician and the pharmacist share many of the duties, but whilst the pharmacist can do anything the pharmacy assistant can, the same cannot be said for the opposite.
As the more senior of the two, the pharmacist is responsible for everything that is in and that happens in the pharmacy, including ensuring that all regulations are strictly adhered to. They must also ensure that every prescription is double-checked before being handed to the patient, and that each prescription that is sold is legal and valid.
Duties Of The Pharmacist
A pharmacist in theU.S.must earn a Pharm.D. Degree, which has replaced the Bachelor of Pharmacy degree previously required. A pharmacy is one place where a mistake could have lethal consequences, such as if an incorrect medication is given to a patient. The pharmacist must be familiar with all the medical problems of the patients and what drugs are used to treat those conditions, as there are many drugs with very similar sounding names.
Most pharmacists work in community settings such as a retail drugstore, or in a healthcare facility such as a hospital, mental health institution, neighborhood health clinic or a nursing home.
A Pharmacist's duties include:
Compounding the actual mixing of ingredients to form tablets, ointments, powders, capsules, and solutions
Dispensing drugs prescribed by physicians and other health practitioners to patients
Answering questions patients may have about medications; advising patients on general health topics; counseling patients on the use of over-the counter and prescription medications
Advising physicians and other health practitioners on the dosages, selection, interactions, and side effects of various medications
Monitoring the health and progress of patients in reaction to drug therapy to assure safe and effective use of medication
Having current in-depth knowledge and understanding of the composition, use, and clinical effects, of drugs, including their biological, chemical, and physical properties
Receive new prescription orders verbally from prescribers
Perform identification, interpretation, , evaluation, and clarification of a prescription
Verifying the prescription before handing the it to the patient
Pharmacists are looked upon as fonts of medical information and advice. In the pharmacist vs pharmacy technician scenario, it is the pharmacist that spends a large part of the day giving patients advice on their medical problems judging on their symptoms. They will sometimes offer over-the-counter medications and at other times they will refer the patient to a medical doctor. There are some states where pharmacists are even allowed to write prescriptions for commonly prescribed non-regulated medications such as mild pain relievers or antibiotics.
Duties Of The Pharmacy Technician
One of the biggest differences when it comes to the pharmacist vs pharmacy technician scenario is the fact that the pharmacy technician does not necessarily require any education above a high school diploma or equivalent. There are, however, many vocational schools which offer programs that make the pharmacy technician much more attractive to future employers.
Apart from helping the pharmacist to prepare medications, the pharmacy technician may also:
Serve the customers at the counter or elsewhere in the pharmacy
Verify insurance and other information with patients and maintain patient files
Receive electronic prescription requests from doctor's offices and prepare prescription labels
Pour, weigh, measure, count, and sometimes mix medications.
Read patient charts, prepare and deliver the medicine to patients in hospitals, nursing homes, and assisted-living facilities
Assemble a 24-hour supply of medicine for a patient
Act as the cashier
In some communities and hospital pharmacies the pharmacy technician may also:
Enter prescriptions into the computer
fill and label prescriptions
Pre-pack bulk medications
Prepare pharmacy inventories together with the pharmacist
Transport medications or equipment to clinics or nursing units
Pick up copies of physician's orders
Fill medication cassettes
Compound nutrition solutions and intravenous mixtures
Perform routine nursing unit inspections
Pharmacist Vs Pharmacy Technician Similarities
Pharmacy technicians generally work very closely with pharmacists, and their duties are therefore very similar in many ways. Both of them count, mix and weigh medications, and both deal with pharmacy customers, insurance companies and doctor's offices.
Both the pharmacy technician and the pharmacist play essential roles in the pharmacy and have the same goal; the health and wellness of the public in general, and satisfied customers or patients. Both generally also enjoy very satisfying careers.
Pharmacist vs Pharmacy Technician Differences
Although in the main the pharmacist and the pharmacy technician perform similar tasks, there are also some very substantial differences between the jobs. A pharmacist spends many years learning names of medications, their composition and their side effects. Only a pharmacist is allowed to note down prescriptions given and spelled out over the phone, and only a pharmacist can give a patient advice regarding a drug and its side effects.
New customers are handled by the pharmacist while pharmacy technicians generally attend to regular or returning customers; the pharmacist handles more of the medical side whilst the pharmacy technician handles more of the administrative side. The pharmacist is paid a significantly higher salary than the technician, who is generally paid by the hour.
Education And Training
In the pharmacist vs pharmacy technician debate, there is no doubt that whilst they share the same space and similar responsibilities, education and training requirements are vastly different. The pharmacy technician is not required to have any formal training beyond high school in many states, whilst the pharmacist requires at least a doctorate (PharmD) in order to be employed in a pharmacy.
Some states require pharmacy technicians to become certified whereas other do not, but a pharmacist must have a doctorate and be registered with the State Board of Pharmacy. One can become a pharmacist technician directly from school or after a short course, but a pharmacist has to study for 6 years before they can sit for the licensure examination.
Pharmacist
In order to practice as a pharmacist, an individual has to complete some three years of undergraduate studies to attain a bachelor's degree before getting their doctorate. A PharmD degree, or doctor of pharmacy, is a six-year degree, which consists of a four-year professional program involving academic training as well as internship experience, and two years of pre-pharmacy education. Once they have qualified, they need to complete a one-year internship under a licensed pharmacist.
Once an individual has completed all his or her studies, they must sit for and pass the North American Pharmacist Licensure Examination (NAPLEX) examination in order to gain licensure, and then register with the State Board of Pharmacy.
Subjects studied to become a pharmacist include:
Biochemistry
Biology
Chemistry
Microbiology
Pharmacology
Pharmaceutics
Pharmacy education includes learning how the body works; how drugs work on the body; identifying and differentiating between medications; what disease or condition each medication is used to treat and how various drugs interact with each other.
As there are continuously new drugs beings discovered and introduced onto the market, the pharmacist must continually learn in order to keep current with all the new developments.
Pharmacy Technician
In the pharmacist vs pharmacy technician race to get into the working world, it is definitely the pharmacy technician that wins, as individuals can work as pharmacy technicians with no prior training or education. Although there is no standardized national education requirement, some states do require pharmacy technicians to become certified, and this means passing a standardized test called the ExPCT which is administered by the Pharmacy Technician Certification Board (PTCB), which is a national organization which develops pharmacy protocols, offers pharmacy education, and certifies pharmacy technicians. The PTCB is recognized in all fifty states.
There are many private organizations, institutes of higher education, and online schools that offer pharmacy technician certification programs and some large retail pharmacies also offer internal training programs which prepare their employees for certification.
Pharmacy technician training programs can range in duration from eight weeks to two years. The training programs that pharmacies offer generally consist of eight weeks of classroom training and up to six months of on-the-job training.
Educational institutions can offer:
Certificate Programs which by and large take less than a year to complete
Diploma Programs which generally take twelve to eighteen months
Associate Degree Programs which is a two year program
Pharmacy Technician Programs normally include the following:
Pharmacy law
Ethics
Medication dosage calculation
HIPPA regulations
Pharmacy administration
Day-to-day operations of a pharmacy
Pharmacy technician training includes gaining knowledge in the correct way to handle private patient information; the day-to-day operations of a pharmacy; how to process insurance claims; pharmacy record keeping; an awareness of prescription requirements; how to fill prescriptions.
Once the training course has been passed, the graduate will need to sit for and pass a standardized test called the ExPCT which is administered by the Pharmacy Technician Certification Board.
Employment Outlook And Earnings
When it comes to the pharmacist vs pharmacy technician employment outlook, employment growth is set to grow for both professions. Overall, healthcare professions are growing throughout theUSdue to the baby-boomer generation now reaching an age in which they will require more nursing and more medications. Both industries are expected to show phenomenal growth in the 2010 – 2020 decade, with the need for pharmacists growing by 25% per annum and that of pharmacy technicians growing by approximately 32%, both of which are higher than the national average.
When it comes to earnings, this reflects the difference in pharmacist vs pharmacy technician education requirements and job responsibilities. A pharmacy technician is generally paid by the hour and earns somewhere in the region of $25,000 per annum and the pharmacist earns between $80,000- $120,000 annually. According to the U.S. Bureau of Labor Statistics (BLS), the median salary for a pharmacist was $111,570 per year in May 2010, and that for a pharmacy technician was $30,020.
As has clearly been shown in the above article, when it comes to pharmacist vs pharmacy technician there are many similarities and also many differences, in the education required, the job and the salary. Whichever one you decide to become will depend on your own interests, needs, and financial situation, so do your research and enable yourself to make an informed decision that way as to what would best suit you.
In the pharmacist vs pharmacy technician debate the financial gain is much greater on the pharmacist side, and this costs money for many years of study, which puts many individuals off, but there are many financial aids available to pharmacy students, so if that is really what you want to do, do not let anything stop you!