Delaware, as one of the smaller states, does not have as many training programs for pharmacy technicians as other states may have. However the pharmacy technician programs in Delaware are of good quality and you will be able to become a successful and skilled pharmacy technician if you attend one of those programs and complete the training form beginning to end. The program that you select can have a big impact on your future career, so choose wisely.
Overview
Like most states Delaware is experiencing a shortage in supply of pharmacy technicians and requires a larger number of professionals to fulfill this role in the healthcare industry. Although the state of Delaware does not regulate pharmacy technicians and there is no state certification necessary to work as a pharmacy technician in this state, it is still exceedingly difficult to enter the field without the proper education, hence the existence of pharmacy technician programs in Delaware. In addition to this the health care industry is one that is always on the increase. When making the all-important decision about which school to attend, these steps may be useful in helping you make the right choice:
Create a list of criteria that you would like your school to meet so that you can narrow down your list of options
Ensure that you are able to comply with the specific application requirements specified by each school
Apply to more than 2 different schools in order to enhance your opportunities for being accepted
This is a decision that could inform the rest of your career as employers tend to look at your training program even in states where formal training is not a requirement.
Pharmacy Technician Training In Delaware
Training to be a pharmacy technician in Delaware firstly involves enrolling in one of the schools that offer pharmacy technician programs. These are often vocational schools. At this school you will learn: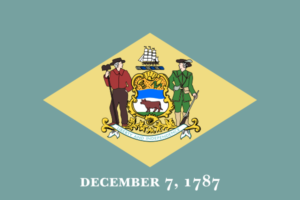 Lab skills
How to fill prescriptions
How to process billing
How to keep records and inventory
Become knowledgeable of medications
How to prepare IVs
These programs can cost around $3000 to complete. While you are studying you will need to fulfill a brief internship in a pharmacy. Many schools will, in fact, offer a 24 hour internship at a nearby pharmacy as part of the training course. If possible you should focus on schools that provide the internship opportunity over others.
In Delaware you are not required to become certified but it is an option and it will help you in your career. You can prepare for and take the national certification exam online at the Pharmacy Technician Certification Board website (ptcb.org). The school that you attend can also help you prepare for the certification examination. In addition you will be able to apply for certification and take the exam at any time, so there is not pressure to do so straight after finishing your program.
Pharmacy Technician Careers In Delaware
Careers for pharmacy technicians in Delaware are looking very good indeed. This is because from the year 210 until the year 2020 we expect to see growth in the pharmacy technician industry of 32%. This is an incredibly high percentage when you consider that the expected growth rate for all occupations is only 14%. Pharmacy technicians are definitely at the top end of the growth spectrum. What this means for students who begin their training now is that they can be guaranteed of finding employment once they complete their program and enter the job market. Having certification will help them to get the best jobs as it will give them an advantage over the competition. Fewer pharmacy aides will be hired in the future, which means that pharmacy assistants will have an increase in responsibility, teaching them valuable skills to take forward with them in that career to any other career they may become interested in pursuing in the future. In addition to receiving certification it is also beneficial to belong o a pharmacy technician society or organization as these groups usually offer excellent benefits and opportunities for career advancement on a regular basis.
List Of Pharmacy Technician Programs In Delaware
Being a small state Delaware does not have many training programs of any kind. There are 3 main schools that offer excellent pharmacy technician programs in Delaware which is not bad proportionately speaking in comparison to the size of the state. In addition students also have the opportunity to study for the pharmacy technician qualification online or through a correspondence course. It must be kept in mind that you need to choose a school that is properly certified and that has the right to teach the pharmacy technician course. This applies to brick and mortar schools as well as online and correspondence schools. The better the school you attend, the higher your chances of receiving the best jobs over your competitors once you are qualified to work as a pharmacy technician. Consequently, when looking for a school, you should focus your attention on those with the best reputation.
Schools In Delaware
Kaplan Career Institute:
The program offered in Broomall = Pharmacy Technician
Lincoln Technical Institute:
The program offered in Northeast Philadelphia = Pharmacy Technician
The program offered in Center City = Pharmacy Technician
Lincoln / Lincoln Technical Institute:
The program offered in Center City Philadelphia (Downtown) = Pharmacy Technician
Online Schools
Ultimate Medical Academy Online:
Health Sciences Associate (Pharm. Tech.)
Pharmacy Technician Diploma
Stratford Career Institute:
Pharmacist's Assistant
Penn Foster Schools:
Pharmacy Technician
Career Step:
Pharmacy Technician – Certificate
Keiser University eCampus Online:
Associate of Arts in Health Services Administration
Correspondence Schools
Ashworth College:
Pharmacy Technology
Pay
In Delaware the average salary that you can expect to earn as a pharmacy technician is about $28,580. However there are a number of factors affecting how much you actually earn. One of these factors is the city you live in:
In Dover you can earn around $34,389 a year
In Wilmington you can earn around $34,389 a year
In Newark you can earn around $34,389 a year
Overall for the entire country pharmacy technician earn around $8.13 – $15.62 an hour with overtime rates of about $10.20 – $24.43 an hour. They eligible for bonuses of about $0.00 – $981 a year, bringing the overall potential pay to $16,988 – $35,020 a year.
The employer you work for can play a significant role in your hourly rate of pay:
Working for CVS / Pharmacy will earn you about $8.03 – $12.66 an hour
Working for Wal-Mart Stores, Inc will earn you about $8.27 – $12.20 an hour
Working for Walgreen's Pharmacy will earn you about $8.87 – $14.05 an hour
Working for Rite Aid Pharmacy will earn you about $7.76 – $13.76 an hour
Working for Walgreen Co. will earn you about $7.71 – $15.47 an hour
The level of education you have is an additional factor to consider:
A Bachelor's Degree will earn you about $8.25 – $14.73 an hour
An Associate's Degree will earn you about $8.03 – $14.66 an hour
A High School Diploma will earn you about $8.00 – $17.34 an hour
Becoming a pharmacy technician through one of the pharmacy technician programs in Delaware will give you a foot in the door of the medical industry. In the medical industry you can be guaranteed of stable jobs that come with many benefits. While other industries suffer as a result of the current economy, the medical industry stays string. This means that you will always be able to find employment in this industry no matter what. People will always need medicine and therefore they will always need pharmacists and pharmacy technicians.