Notice
: Undefined index: random_ads_start_direction in
/home/customer/www/healthcarecareersguide.com/public_html/wp-content/plugins/ad-injection/ad-injection.php
on line
1087
Notice
: Trying to access array offset on value of type bool in
/home/customer/www/healthcarecareersguide.com/public_html/wp-content/plugins/wp-word-count/public/class-wpwc-public.php
on line
123
In Canada there is a movement underway to regulate the pharmacy technician profession. Pharmacy technician regulation will mean that the industry will have to abide by certain rules. It also means that individual pharmacy technicians will have more responsibility (which in turn means that they will be personally held responsible for their own actions, rather than being answerable to a qualified pharmacist). At this point becoming a regulated pharmacy technician is not a requirement in Canada, but it is recommended.
What A Regulated Pharmacy Technician Can Do
Becoming regulated as a pharmacy technician effectively means that you will have more responsibility for your own actions. The scope of practice for a pharmacy technician with pharmacy technician regulation status includes receiving and transcribing verbal prescriptions from practitioners, ensuring that a prescription is complete and authentic, transferring prescriptions to and receiving prescriptions from other pharmacies, ensuring the accuracy of a prepared prescription, performing the final check of a prepared prescription, and ensuring the accuracy of drug and personal health information in the PharmaNet patient record. In relation to these tasks the pharmacy technician will be held liable for any actions taken and any mistakes made. The following tasks will, however, remain the responsibility of the actual pharmacist:
The pharmacist must be involved in every new and refill prescription
The pharmacist is still responsible for assessing the appropriateness of drug therapy
The pharmacist is still responsible for patient assessment
The pharmacist is still responsible for confirming dose and interval amounts
The pharmacist is still responsible for checking the relevant PharmaNet profile
The pharmacist is still responsible for identifying any drug related problems in a patient
The pharmacist is still responsible for providing patient consultation
So, although the pharmacy technician will have far more freedom and independence, double-checking the work of the pharmacy technician remains the responsibility of the pharmacist in charge of that technician. If a pharmacist does not perform the above roles, the medication in question cannot be released to the patient as there is no guarantee that is has been accurately measured or that the appropriate instructions have been included n the packaging.
Becoming Regulated
Steps to regulation for current technicians: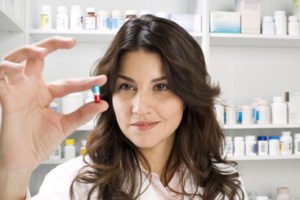 The following steps need to be completed by current pharmacy technicians employed in Canada if they intend to become regulated:
They must have worked in 'pharmacy practice' for a minimum of 2000 hours in the past 3 years.
They must complete both the PEBC Evaluating Exam and the College of Pharmacists (CPBC) Bridging Program (these two steps can be completed in any order).
They must successfully complete a Jurisprudence Exam to test relevant provincial legislation and ethics which is not included on the national PEBC Qualifying Exam.
They must complete the PEBC Qualifying Exam consisting of two parts – a written multiple choice question exam (MCQ) and a performance based exam called an Objective Structured Performance Exam (OSPE).
Steps To Regulation For Future Technicians
The steps that future pharmacy technicians are advised to take in order to become regulated (whether or not it is required in their province as the rules are changing across the nations) are as follows:
They must complete an accredited program offered by either a public or private post-secondary institute that has met the accreditation standards for a regulated pharmacy technician program established by the Canadian Council for Accreditation of Pharmacy Programs (CCAPP).
They must successfully complete a Structured Practical Training (SPT) program which is a supervised competency based training period within a pharmacy that includes regular assessment by a pharmacist or another regulated technician.
They must successfully complete a Jurisprudence Exam to test relevant provincial legislation and ethics which is not included on the national PEBC Qualifying Exam.
They must complete the PEBC Qualifying Exam consisting of two parts – a written multiple choice question exam (MCQ) and a performance based exam called an Objective Structured Performance Exam (OSPE).
FAQ
What Is Pharmacy Technician Regulation?
Pharmacy technician regulation is very similar to pharmacy technician registration or certification. All of these words essentially imply that the profession will be monitored and manage din some way in the best interests of all those who work within it. Through regulation you will be established as a regulated healthcare professional which essentially speaks volumes for your professional demeanor and your ability to do your job well. In fact the title of pharmacy technician is now restricted in Canada to refer only to those pharmacy technicians who are regulated (or certified, or registered). This is a trend that may become more and more prevalent in many different countries as people begin to understand the benefits involved in ensuring that pharmacy technicians are properly monitored.
It is interesting to note that becoming a regulated pharmacy technician is voluntary but you will not be able to use the title of 'pharmacy technician'. Those who choose not to become regulated, or are unsuccessful in becoming regulated, will no longer be able to refer to themselves as pharmacy technicians as of January 1, 2011 and will likely be called 'pharmacy assistants', a more lowly position that may affect your salary and employment opportunities within the pharmaceutical industry. Through the process of pharmacy technician regulation you will become responsible, accountable and liable for a specific scope of practice, which is the same as your job description.
Generally speaking, pharmacy technician regulation means that you have more power, but also that you have more personal responsibility in your role as a pharmaceutical expert within your specified scope of practice in the industry.
Liability Insurance
As a regulated pharmacy technician you will, due to the marked increase in your responsibilities and liability, need liability insurance. The insurance that you will need to have does, according to bcpharmacists.org, have to meet the following basic criteria:
Your insurance package must provide a minimum of $2 million in coverage.
Your insurance package must provide occurrence based coverage or claims made coverage with extended reporting period of at least 3 years.
If your insurance package is not in the pharmacists' or regulated pharmacy technicians' name, the group policy covers the pharmacist or pharmacy technician as an individual.
It is important to remember here that, although the pharmacist for whom you work will still be in charge of overseeing and double checking all of the work you do, you yourself will also be held liable for any mistakes that are made. Remember as well that no matter how careful you are, you are human and you will make the odd mistake form time t time, most of which will not be serious. In addition there have been many cases of pharmacy technicians being sued even though they did not do something wrong. This can arise due to a basic misunderstanding or as a result of a deliberate ploy by a patient or colleagues in order to get money out of the situation or to discredit you for some reason. The bottom line is that you cannot assume that you will not need liability insurance as even the best pharmacy technicians have run into trouble of this nature from time to time. Therefore it is a requirement that you have liability insurance in order to become regulated.
Continuing Education And Assessment
Like many healthcare professionals across the board pharmacy technicians are required to engage in continuing education and assessment. This will depend on the rule of your province. The purpose of this form of continuing education is to ensure that the standards in the industry remain high and that patients and clients receive only the best care and treatment from the pharmacy technicians who serve them. This is an essential aspect of pharmacy technician regulation. Specifically you will be required (in the same way as a qualified pharmacist is) to complete the Professional Development and Assessment Program (PDAP) which includes a continuing education component and an assessment component.
Continuing education should be looked at in a positive light. It is a way for you to improve your knowledge and a way for you to ensure that you are up to date with all of the developments in the field. This will in turn make you more marketable when the time comes to look for a new job. In addition it will improve your confidence in your role and allow you to work more quickly and more efficiently as a pharmacy technician. Continuing education and assessment is a fairly new standard for pharmacy technicians in Canada, but this is another sign that the discipline is becoming more professional and gaining greater significance in its own right. It is therefore important that you, as a member of the profession, embrace these changes and complete the necessary continuing education with the correct attitude. The idea of pharmacy technician regulation is very strong in Canada at present and it is believed that it is a concept that will soon spread to other nations, such as the United States of America.
How To Become A Pharmacy Technician In Canada
Because at this stage pharmacy technician regulation applies mainly to Canadian pharmacy technicians, we will now look at the steps involved in becoming a pharmacy technician in Canada:
The first step involves doing some careful research. The different territories and provinces within Canada have different rules when it comes to regulation. In other words some require you to be a regulated pharmacy technician while others do not. In addition there may be examination and certification requirements that differ between these areas. Finding out well in advance what will be expected of you in that territory or province can make your path to becoming a pharmacy technician far easier.
Once you are aware of what requirements you will need to meet you can enroll in a pharmacy technician program. These will take about 2 years to complete and they tend to include a work placement program in Canada. If you are interested in pursuing this career and if you are still in high school, you should consider taking math, biology, chemistry and English in order to start preparing yourself for the coursework you are likely to cover in your course.
The next step involves taking the Pharmacy Technician Evaluating Examination. This exam is absolutely essential and necessary if you want to work in a province where pharmacy technicians are required to be regulated. Even if your province does not have that requirement, it will still be better to take the exam and pass it as this will improve your resume. To become licensed in areas that require pharmacy technician regulation this exam is an essential step in the process.
The final step involves applying for a license in your home province (although this is not required in all Canadian provinces). Generally, applying for a license involves submitting proof of your education and evidence that you passed the Pharmacy Technician Evaluating Examination. Once you have submitted these documents you will be well on your way to working as a regulated (or unregulated) pharmacy technician (this depends, once again, on the province you wish to work in).
Taking the examination as stated above will not take a lot of your time or money, comparatively speaking, making it a worthwhile to do even if your province does not require it. In the near future all Canadian provinces may require you to be regulated, so it is worth preparing for that change now.
There are a number f benefits to becoming a regulated pharmacy technician in Canada. It does, for one, indicate that you have the capability to work on your own without supervision and may boost your resume considerably. Although pharmacy technician regulation is a fairly new concept and does not yet seem to be a prevalent idea in countries such as the US, there are certainly a number of merits to the movement that will most likely result in a similar trend in other countries in the very near future.