Strep throat, inspect bites, surgery, administering medications, hoisting patients up, assisting in surgery; the registered nurse is often part of a multi disciplinary health care team or they work individually, but wherever you find them, they are the ones providing patient care, educating their patients on the disease they have and monitoring their patient's illness. Registered nurses have many career paths as well as specialties to choose from, and where they find themselves will often depend on the level of post-graduate education they decided to pursue. A combination of classroom education and training in a clinical environment is necessary and class topics include things like pharmacology, anatomy, physiology, health assessment and nursing skills. To actually become a registered nurse, individuals must first pass the National Council Licensing Examination for Registered Nurses (NCLEX-RN), required by every state. This is necessary because this is your ticket to exciting RN industries as it proves you have the knowledge and skills conduct all treatments professionally and with integrity in your scope of practice.
In the United States, registered nursing is one of the biggest health care occupations, and the registered nurse has the option of a number of RN industries to choose from, and heaps of students choose to become a registered nurse because of the satisfaction achieved from helping someone who is ill, frail or disabled. Nursing is always patient focused and the focus is on improving outcomes for the patient. They also choose the health care industry because of the good salary packages and other perks. Benefits can include things like insurance, medical aid, bonuses and generous leave. There are other factors that influence salary, and the area you work in, as well as the level of training and experience you have, will play a part in they type of salary you are paid.
Assistance With Going In The Right Direction
Once training is complete and you have your license, you can start looking for a job. The Nurse's Career Center is an online resource and they play a valuable role in connecting qualified nursing professionals with leading healthcare employers. They provide a number of search services and functions, and employers post various jobs and view candidates, while job hunters can search for a job or post their resume. On top of that they provide access to the National Healthcare Career Network (NHCN) which is a source of career opportunities for job hunters and employers.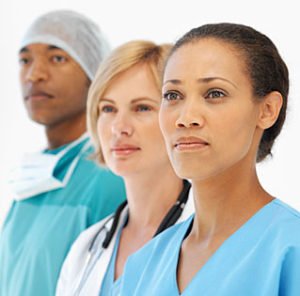 There was once a time when a registered nurse was more or less limited to working in a hospital, but today, even though a large percentage of registered nurses are employed in hospitals, RN industries are vast and varied and the registered nurse can anticipate a wonderful career beyond the usual hospital setting. Not only that, there are careers for registered nurses where you can choose flexible working hours that suit your needs and times. You can choose to work day or night shifts, weekends or on-call hours. Some of the industries where you, as a registered nurses can opt to work:
hospitals and clinics
occupational health or industrial nurse
nursing homes
pharmacies
government agencies
schools, the military etc
physician's rooms or offices
home health care
teaching positions at colleges and universities
Hospitals
Working in a hospital is always fast paced and ever changing with constant communication between the different medical staff to ensure ultimate patient care. The nurse will receive a report from the previous shift on the patients in their care. Once the patient has been assessed, all information is documented on the patient's chart, after which medications and treatments are administered. Ongoing care continues throughout the shift. Registered nurses work closely with physicians as well as other health care providers, often overseeing the work of licensed practical nurses and nursing assistants. Many times that are assigned to a particular area like in the intensive care unit, the children's ward, the cancer ward and so on. Duties in the hospital setting will include patient care, patient assessment, patient and family education, administration of medication, discharge planning and much more. There are many different specialty care units in a hospital, and by being employed in a hospital, registered nurses bring an array of knowledge and skills to every area. In a hospital setting, registered nurses provide both specialized and generalized health care and education.
Fully qualified registered nurses also specialize in the care of newborn babies, particularly those suffering from specific illnesses. Other pediatric services include caring for pediatric patients over weekends for which the nurse receives special weekend rates.
Hospices And The Terminally Ill
Hospice nurses are registered nurses who provide care for critically ill patients. Coping with a terminal illness is another part of RN industries, and hospice nurses work hard to maintain the quality of life for those who are diagnosed with terminal diseases. Even though it is very difficult, with their superb training, the registered nurse plays a vital role in ensuring the comfort of the terminally ill patients in their transition from life to death. They also have the difficult task of gently helping the family in confronting reality, and the stress and anxiety which surrounds the patient as well as the family.
It is the wish of many who are terminally ill to remain in their own homes, and registered nurses, with their excellent home care, make this possible.
The registered nurse, apart from supervising and directing other nursing staff, will be responsible for the care provided. Communication is an important aspect and the RN will need to be constantly watching and monitoring changes with the terminally ill and reporting to the physician. After assessing the patient's signs and symptoms, the registered nurse devises a plan of care which will also need to be reassessed every now and then to ensure the maximum comfort of the patient. The RN will administer medications and also consult with the physician as needed.
Physician's Offices
Registered nurses also work in physicians' offices where their duties are around the type of practice. For instance an eye specialist, orthopedic surgeon or ear, nose and throat specialist. If it is a family practice, duties are vast and varied and the registered nurse will be responsible for, amongst others, preparing patients for examinations, dressing wounds, maintaining records, administering vaccinations, test results, prescriptions, ECG's as well as assisting in office surgeries like vasectomies or lesion removals.
Home-Health Care
There are many frail, ill, disabled as well as the aged that want to be nursed at home, but who also want to have someone looking after them who has the expertise and experience to deliver the highest levels of clinical care at home. Registered nurses are in high demand for this purpose, whether it is for a night, a day, a week or much longer. Duties include things like:
daily personal care
IV therapy
mobility assistance
hoisting patients
catheter care
blood pressure measuring
treating the elderly for stroke, dementia
wound care
meal preparation
The nurses provide complete in-home healthcare solutions, providing not only nursing and personal care, but companionship as well. The nurses are all screened and interviewed to fit the right person to the right environment.
The nurses are available on a live-in or live-out basis, and due to technological advances, it is possible to bring complex treatments right into the home that were once reserved for being done at hospital only.
There are different types of long-term care for registered nurses in the care of the elderly:
Nursing Home – where the aged require constant nursing care
Assisted Living Facility – healthcare for the elderly
Frail Care – 24/7 monitoring of the aged in frail care units in retirement centers
Conclusion
There is no doubt that a nursing degree can open up a variety of fantastic employment opportunities for registered nurses. Registered Nurses have to go through different types of accredited nursing programs: a diploma, offered by a few hospitals; an associate's degree or a bachelor's degree, offered through colleges and universities. After their training is complete, they must first pass a state board of nursing exam to receive certification to practice nursing. They will also need to do continuing education units, known as CEU's every year in order to maintain their licensure.
These degree programs can take anything up to two or four years to complete. Nursing schools, colleges and universities offer the nursing diploma program which takes about two years to complete, but you need to remember that a diploma will not open as many exciting doors as what you get with a degree behind you. If you want to know how where to find nursing schools in the United States, the American Association of Colleges of Nursing, AACN, has useful information for discovering the location and programming of nursing schools.
Being a registered nurse is challenging and rewarding, and with a degree you can fix your own hours and work directly with patients, do research in a lab or work in any number of specialty areas such as women's health, cancer care, pediatrics and so much more. With the right education RN industries can offer you a dream job.